PUSHCHAIR TURNED SOAPBOX CAR
AUAS students are partnering up with businesses to repurpose used products and materials
26 Oct 2020 11:38 | Centre for Applied Research Technology

Whether its materials used in an exhibition at the Rijksmuseum or Bugaboo pushchairs that the kids no longer fit into: these are materials and products that are too valuable to throw away after use. And after all, they can be repurposed. This is something AUAS Product Design students are all too aware of. Working with businesses, they carried out research into new design, production and business model strategies for these types of repurposing applications. 'Showing people the number of possibilities – that's what gets people inspired!'

Repurposing involves re-using an object or parts of it for another purpose. It is an intriguing option for residual flows that are too valuable for recycling purposes or even for incineration. With repurposing, the value which has been added to the material during the manufacturing phase or use phase is not lost. The unique shape, colour or composition of an object, for example, is preserved in the form of a new product.

The Product Design' track is linked to the Circular Design & Business professorship, in which repurposing is the main focus. The latest cohort of graduates designed surprising circular products and presented their results to their clients, including the Rijksmuseum and Bugaboo, in an interactive digital session.
BUGABOO BUGGY TRANSFORMED INTO A TOY WAGON
Children quickly grow out of their pushchairs and buggies. Which is a shame, given that these are expensive products that have a brief period of use. With this in mind, Bugaboo (manufacturer of sustainable pushchairs) began collaborating with Stern Gelein, an AUAS student, to breathe new life into the pram. 'I transformed the Bugaboo Bee pushchair into a wagon, for when the kids start getting bigger,' says Stern. This strategy has meant that Stern has kept close to the target demographic, branding and market – which is appreciated by Bugaboo. 'In addition to the fact that the materials are being re-used, this also results in new trade. With another added bonus in that it reduces the size of the second-hand market for Bugaboo products,' says Mark Lepelaar, the REPURPOSE project leader.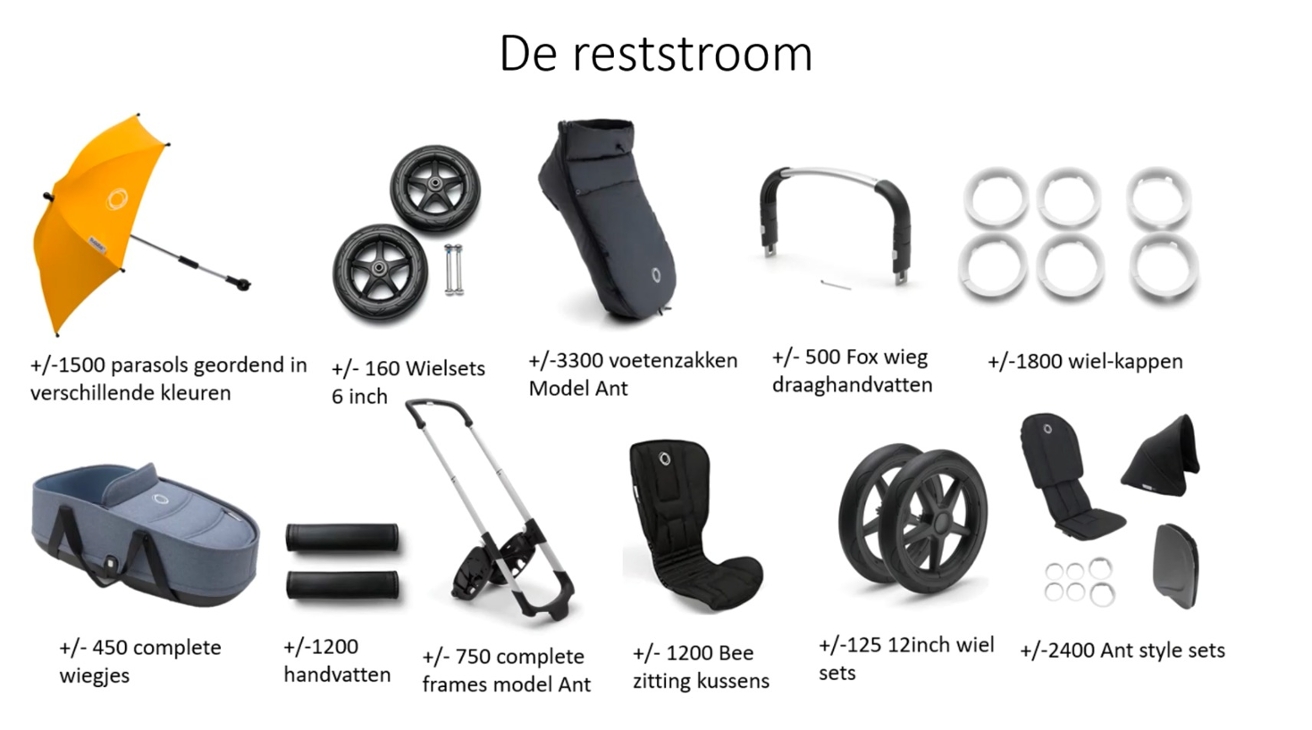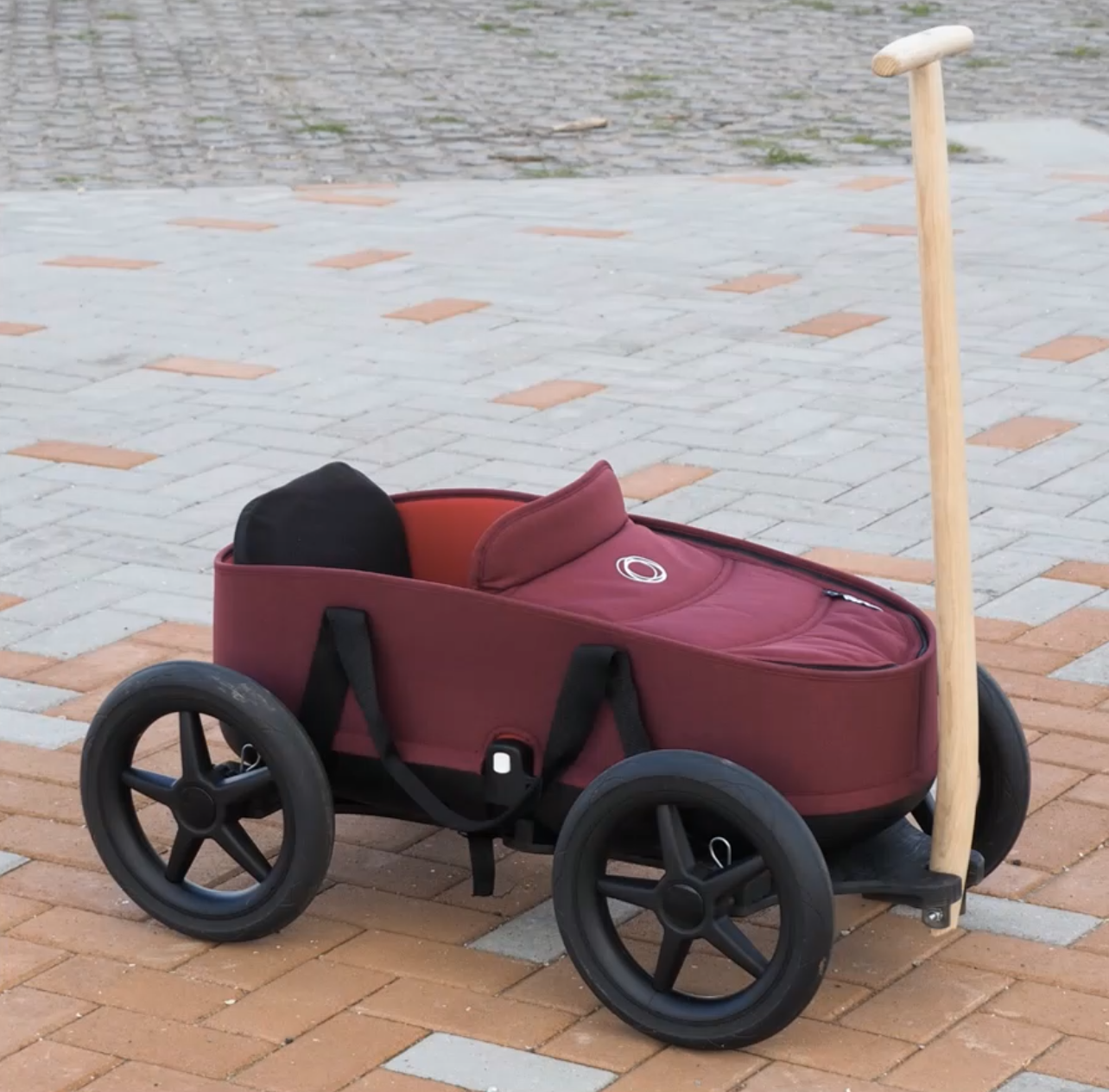 The wagon is based on the crib and 12-inch wheels of the stroller. The chassis is made of multiplex. The wagon can be sold as a finished product or, entirely in line with the circular transition, as a conversion kit for the Bugaboo Bee crib owned by the customer.
CREATING MORE AWARENESS
AUAS graduate Janne Jansen collaborated with Fiction Factory , a sustainable interior construction studio, to create new value using leftover fabric generated in the upholstery department during production – as well as to reduce waste. The research as part of the project revealed 800 metres of leftover fabric from the Caravaggio Bernini exhibition at the Rijksmuseum , which Fiction Factory subsequently stored out of love for the fabric. In order to reduce this production waste in future, Janne has focused her research on this aspect.
Janne: 'I visualised the "The Art of Mending" roadmap in the form of a poster. This starts with effective communication and choices on the part of all stakeholders and determining how much fabric you actually need to prevent waste fabric. If there is waste, then my step-by-step roadmap will help gain an accurate understanding of this, from weighing material to documentation and storage. After that, I deal with determining the value of the residual fabric and how those leftovers can ultimately be used.'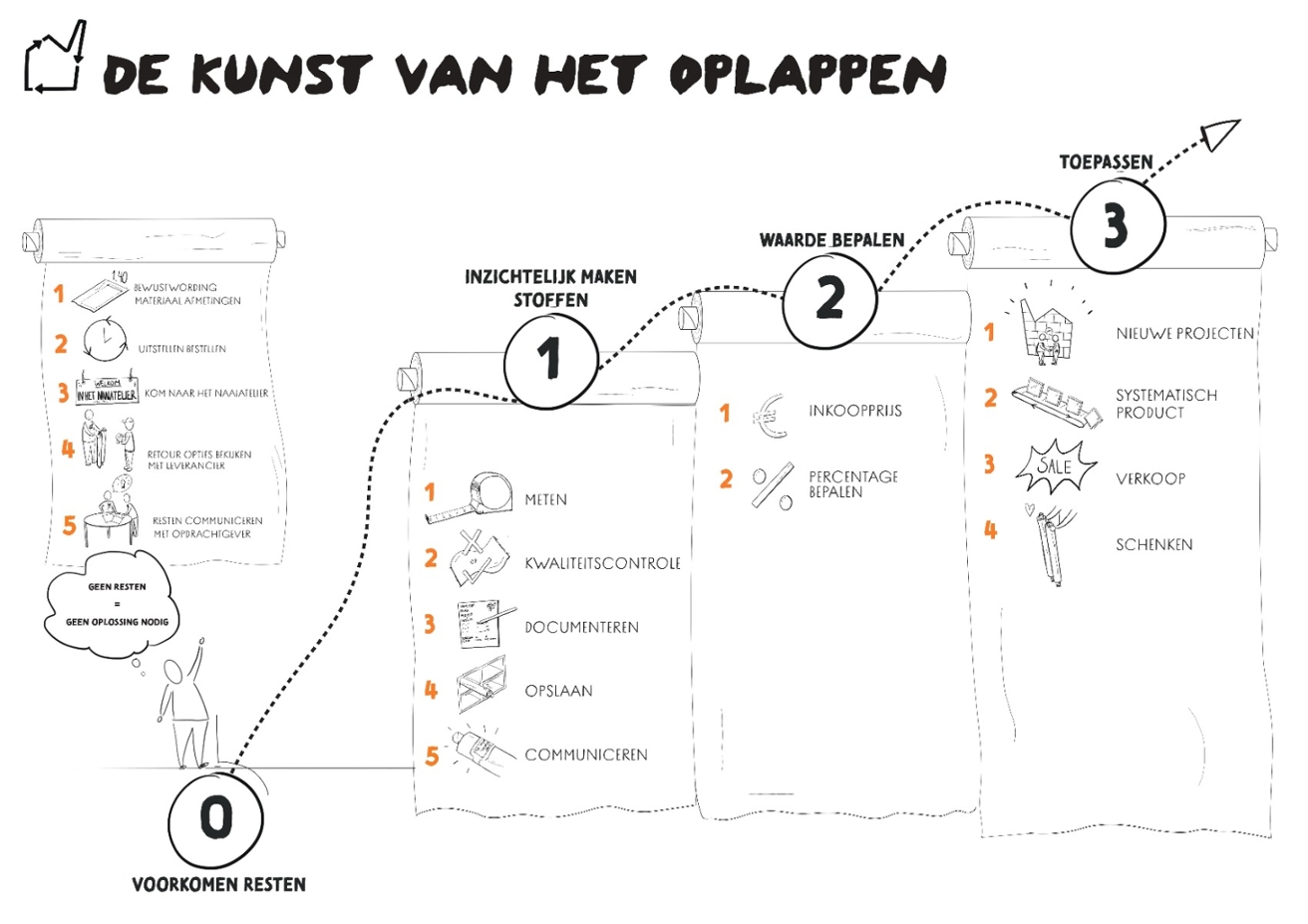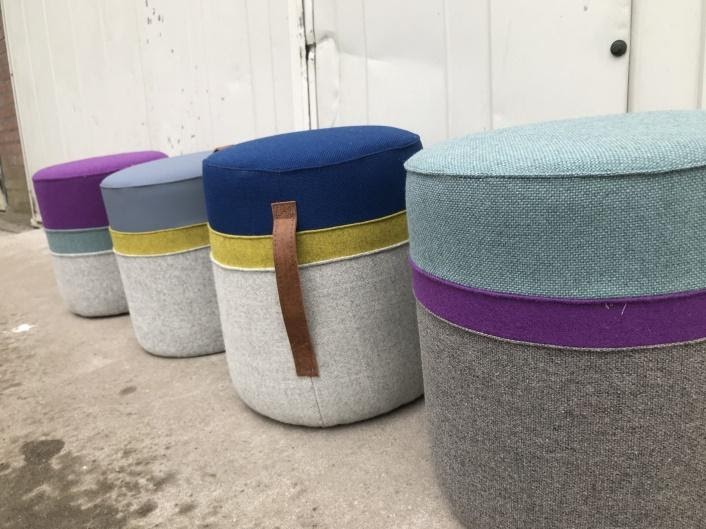 EDUCATIONAL PROJECTS
The fabric from the Rijksmuseum is currently being used in two educational projects, with students working on repurposing the fabric for reupholstering the footstools designed by Miranda Groen, for example. All of this is taking place in collaboration with the students. 'The roadmap serves as a starting point for every department within our company and all other businesses that deal with residual flows,' says Marije from Fiction Factory. 'The visual aspect of the roadmap in particular is highly valuable. The tangible nature of the roadmap makes the options clearer and the choices simpler.'
FEEDBACK FROM PROFESSIONAL PRACTICE
All professional partners who are (digitally) present praise the value of repurposing but have also identified challenges. 'Awareness is one such issue,' says Marije from Fiction Factory. 'Documenting and storing residual flows requires goodwill among the employees, as this all means extra work, time and money. This is particularly difficult for large businesses that have to communicate across several departments. An internal or external incentive is needed to change that mindset. It will take a sustained effort.'
'In addition, we have an opportunity to establish a network in Amsterdam that can bring together and strengthen existing circular aims,' concludes Inge Oskam, Professor of Circular Design & Business. Organisations currently using repurposing applications often operate in isolation, whereas working together they would be able to help advance the circular transition.