AUAS award for research on smart charging of electric cars
Research by SEEV4-City supports smart charging technologies for electric vehicles, which integrate renewable energy sources. The researchers aim to inspire cities throughout the world.
11 Feb 2021 08:59 | Centre for Applied Research Technology

The research project SEEV4-City (Smart, Clean Energy and Electric Vehicles for the City) by the Faculty of Technology and the Centre of Expertise on Urban Technology is the big winner of the 2021 'AUAS Research of the Year Award'. The research on smart charging technologies for electric vehicles won both the jury prize and the people's choice award. Jury chairman Geleyn Meijer praised the researchers for paying attention to both the city and education at the AUAS in their research.

"Winning the award is a great acknowledgement of action research in which the Amsterdam University of Applied Sciences (AUAS) has helped to take the next step in Amsterdam's transition towards electric driving, smarter use of charging infrastructure and the integration of green energy," explains senior lecturer-researcher in Urban Analytics, Pieter Bons who is involved in the five-year international study SEEV4-City.
SEEV4-City
Electric cars are usually plugged into charging stations in the evening, causing peaks in demand on the electricity grid. At the same time, a lot of solar power generated during the day is never used. This can be done differently. Batteries from electric cars can be used to store renewable energy. A smart charging station then ensures that the renewable energy can be used at a later date, not only by electric vehicles, but also in businesses and households. The result: CO2 reduction, cost savings, increase in energy autonomy and a more stable electricity grid. SEEV4-City explored how this could be applied on a larger scale through six pilot projects in five European cities: Amsterdam (NL, 2x), Kortrijk (BE), Leicester (UK), Loughborough (UK) and Oslo (NO).
Flexpower pilot for smart charging
How does this work in practice? Bons: "I worked on the Flexpower pilot project in Amsterdam myself. This involved the introduction of a time-dependent charging speed for 400 public charging stations (Smart Charging technology). With a Flexpower station, batteries are charged more quickly when demand on the electricity grid is lower (at night) or when there is a large supply of local green energy (on a sunny day). During the evening hours (18:00-21:00), when there is a peak in household energy demand, the charging speed was reduced to lessen the demand on the electricity grid. This ensures that the energy demand is more evenly distributed throughout the day. Simulation models populated with real-world data made it possible to directly evaluate the impact of this type of new charging profile. This offers great prospects and the City of Amsterdam will soon be starting the kick-off of Flexpower 3!"
Super-battery in Johan Cruijff ArenA
The second pilot project in Amsterdam took place in the Johan Cruijff ArenA stadium, where experiments were conducted with a 3-megawatt super battery consisting of 148 used batteries from electric cars. Researcher Jos Warmerdam: "Where necessary and with the owner's permission, smart Vehicle2Grid (V2G) technology ensures that the right amount of energy from parked cars is delivered to the stadium. This is done in combination with the 7200 square meters of solar panels on the roof of the Johan Cruijff ArenA. The renewable energy serves as additional storage and as a backup for the stadium, so that football matches and pop concerts can continue in the event of power outages. The battery thus replaces two polluting diesel generators. And through more efficient energy use, the stadium's electricity costs are reduced."
The experiment could play a role for public charging stations, says Bons. "A collective fleet of electric vehicles that forms a mega battery for the city? That could be an effective buffer to control the complex system of supply and demand, peaks and troughs on the electricity grid, from electric cars to surrounding households and businesses."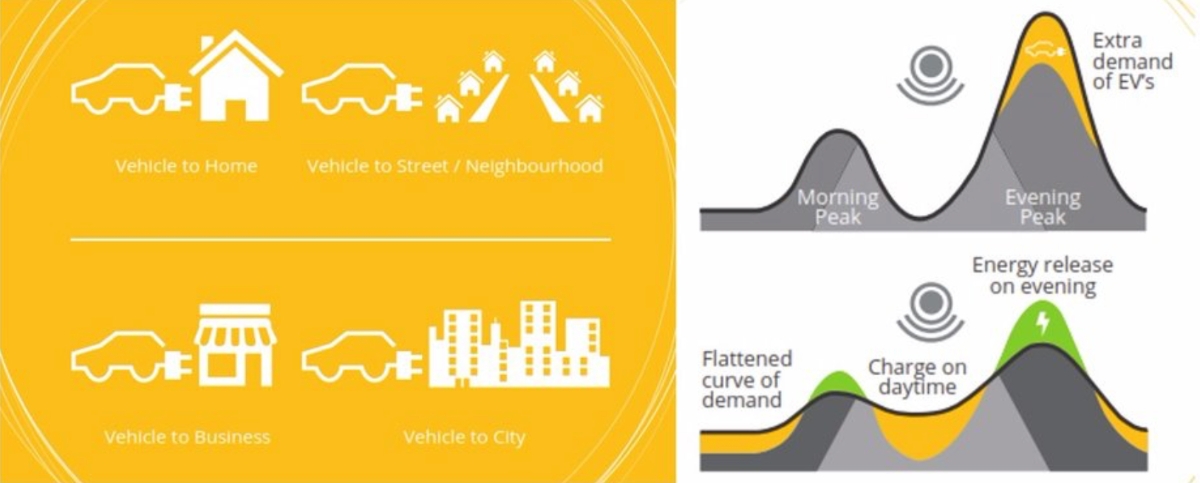 International collaboration for inspiration
Thanks to international collaboration, SEEV4-City had an educational and inspirational character for five years. "More and more cities in Europe are working on sustainable mobility and the technical possibilities for smart charging infrastructure," says project leader Mark van Wees. "Looking at the international pilots, we see cities with different situations, levels and regulations. It was precisely this diversity in context that made it possible to explore a broader spectrum of innovations."
"Knowledge about the pilot projects was openly shared between the cities," says Renée Heller, professor of Energy and Innovation, who has been involved in the research from the start. "Not only about technical innovations, but also about methodology, trading in the electricity market and policies. This was done through workshops, webinars and publications. In addition, it allowed us to implement a more complete package of information into our teaching. We developed minors and educational and transition modules so that students could actively participate through data analysis and experimentation with new business models."
"It is inspiring and motivating for researchers to collaborate with fellow researchers who share with us global goals and personal ambitions," explain Van Wees and Warmerdam. "Electric transport is only just beginning, and with it the charging of electric vehicles in the Netherlands. So the knowledge and experience gained from these pilot projects will be widely applied in the future!"
International partners of SEEV4-City
SEEV4-City is a European project and a partnership between the Amsterdam University of Applied Sciences, the City of Amsterdam, Johan Cruijff ArenA, KU Leuven, Avere, Polis, Cenex, Cenex Nederland, Leicester City Council, Northumbria University, Amsterdam Energy ArenA and Oslo Kommune. The project was funded by the Interreg North Sea Region Programme 2014 - 2020 .
AUAS researchers involved in SEEV4-City
Renée Heller, Mark van Wees, Jos Warmerdam, Pieter Bons, Robert van den Hoed, Aymeric Buatois, Britt Broekhaus, Pieter Lommers, Bronia Jablonska, Hugo Niesing, Ramesh Prateek, Janna Boonstra and Gieta Inderdjiet.