Robot makes desk for Johan Cruijf ArenA from residual wood
Students and researchers of the AUAS Robot Studio are developing a sustainable hospitality desk for Johan Cruijf ArenA
4 Feb 2021 15:55 | Centre for Applied Research Technology

"Soon we will ask robots to produce objects from residual wood according to our design choices" says Marta Malé-Alemany, leader of the Robot Studio and head lecturer in digital production at Amsterdam University of Applied Sciences (AUAS). Together with her multidisciplinary team (of architects, engineers, technological experts) and their project partners, the AUAS Digital Production Research Group (DPRG) explored how robots can help process waste wood into new objects. The result just rolls off the workbench: a hospitality desk at the Johan Cruijff ArenA. "This is the trigger to pursue large-scale and automated processing of residual wood. A new horizon for circularity", according to Marta Malé-Alemany.

Residual wood is a complex material flow, because it is a varied collection of leftover pieces of wood; large, small, light, dark, and quite distinct fiber patterns. Existing techniques are not suitable for processing this material because of its lack of standard properties. So, it comes down to manual work which is always (too) expensive. Consequently, the material is treated as waste. "A shame, because it still is valuable wood", says Malé-Alemany.
'Conversation piece'
Every reason for the DPRG to investigate the processing of residual wood using computational design and robotic production at the AUAS Robot Studio. The first experiment was a lounge chair, made from wood collected at waste separation stations. 'A conversation piece' Malé-Alemany calls it. "You need showcases like this to inspire stakeholders and take the research further." This became clear when Frank de Leeuw, sustainability coordinator at the Johan Cruijff ArenA, visited AUAS: "We were at the Robot Studio touching and smelling the scent of residual hardwood and thought it was such a shame to burn this beautiful material. The lounge chair showed us the potential of digital production for a circular interior in the stadium."
Hospitality desk at the Skyclub and House of Legends
Together with the DPRG, De Leeuw and its regular suppliers (designers and contractors) decided to create a desk for the new Level 6 Skyclub and House of Legends in the stadium. Antoine Pruyn, team leader at Heineken Interior Design: "We design on paper and wanted to know more about this technology. We see the value of the material and would like to encourage reuse among our customers." For interior constructor Nijboer, it was a great opportunity to work with high-end hardwood at an affordable cost. Lumber yard Amsterdamsche Fijnhout supplied the material for the desk; leftover pieces of uncontaminated high quality wood that remain after cutting larger planks, which are now chopped to burn, thus disappearing in the fireplace.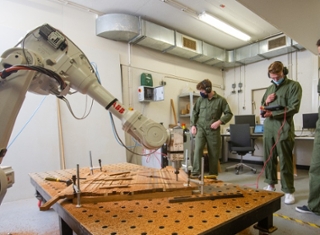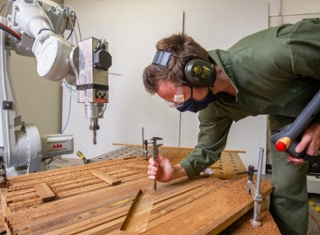 Robots
This commission was a perfect opportunity for AUAS to continue its research into digital production. "The technologies we integrated and developed to produce this desk are critical to make large-scale and automated processing of residual wood feasible and affordable", says Malé-Alemany proudly. "The innovative thing about our approach is that we integrate technologies like 3D Scanning and CNC (computer-controlled) milling in a continuous workflow, using our robots. While CNC milling is mostly used to process flat surfaces, robots can apply this technique on all sides of a non-standard wood piece, using their freedom of movement to create any shape we want."
Material as a starting point
Malé-Alemany: "Waste material is here leading a new design process, in contrast to traditional design processes. Normally a design is finalized before examining its required material. Here, the robot starts by 3D scanning the characteristics of the available residual wood, sorts and imports them as data in a 3D model. Parametric design can use this database to create unique (design) objects, aligned with the wood dimensions and characteristics. For example, for the desk the wood was sorted by size and color, creating a very special desk structure and color gradient. A process that would be too intensive and expensive by hand."
Multiple value creation
The JC ArenA desk is a proof that the use of robots for material reuse is a key and unexplored potential for circularity. Moreover, the project partners are satisfied with the result and would like to further implement the developed technology.
Malé-Alemany sees it as the beginning of a journey of discovery: "In the future designers will determine impact goals, rather than the shape of a specific object. We will have design algorithms and robots to generate and produce designs based on existing materials. We will only select and adjust our objectives (for example: use less wood), and easily create sustainable objects to support circularity."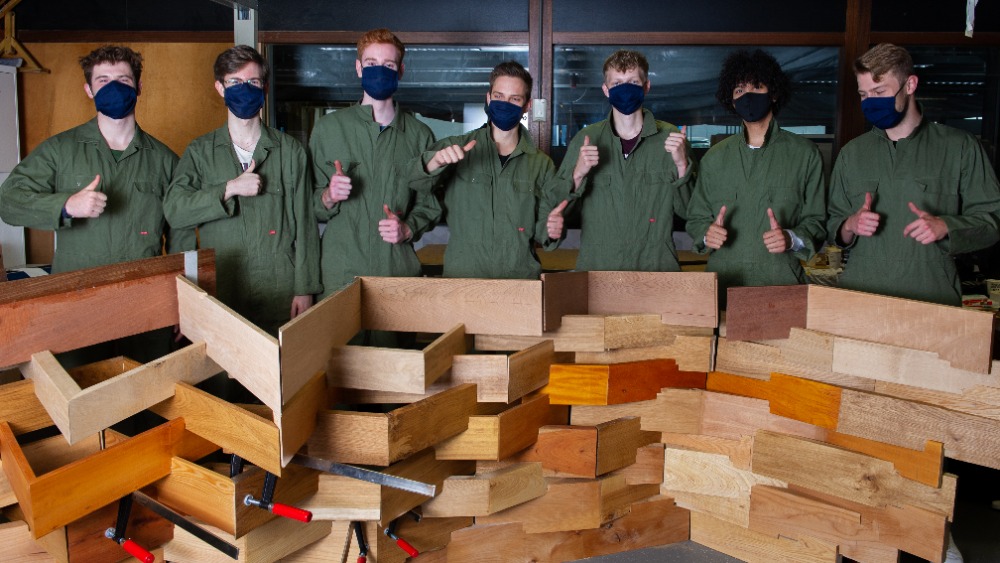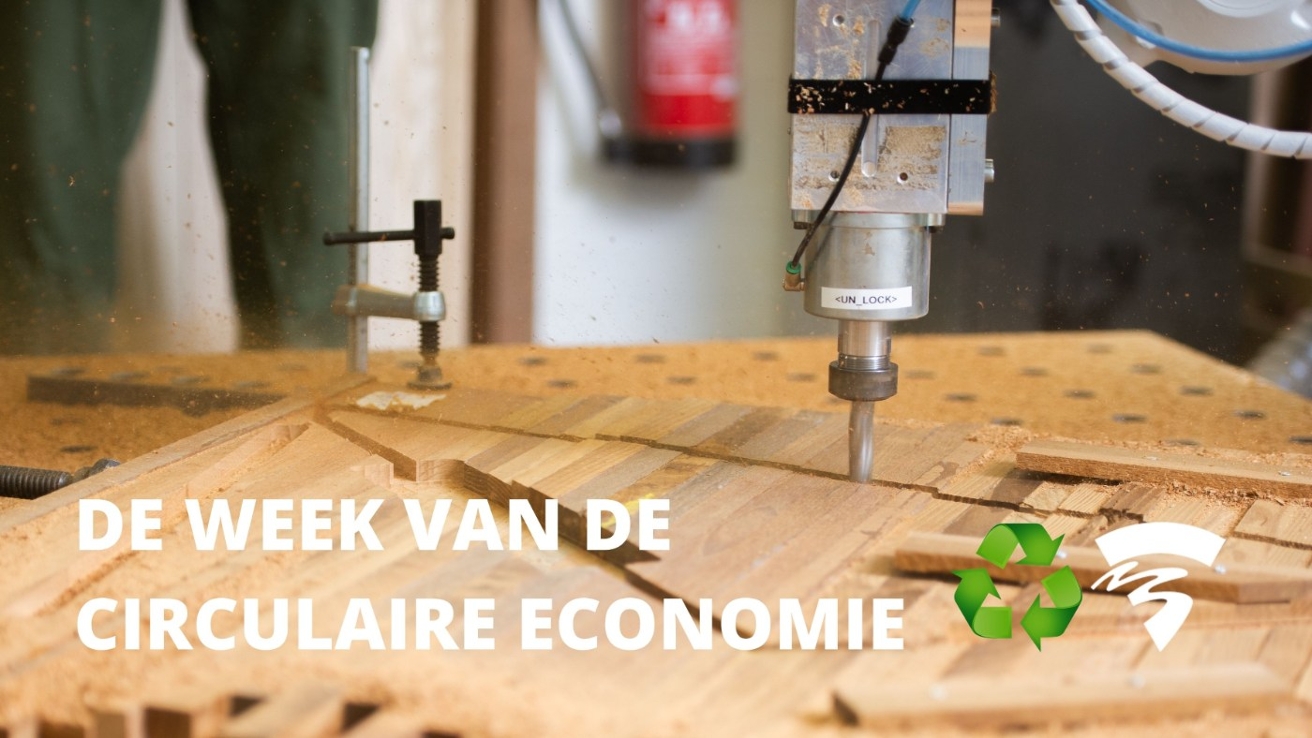 Robot Studio
The reception desk is digitally designed and robotically produced @ Robot Studio – Amsterdam University of Applied Sciences, with waste wood from Amsterdamsche Fijnhout, and the support of Johan Cruijff ArenA, Heineken Interieur Design and Nijboer interieur.
AUAS & Week of the Circular Economy
How do we accelerate the circular transition? As part of the Week of the Circular Economy , the Digital Production Research Group and lectorate Circular Design and Business of the Centre of Expertise Urban Technology and the Faculty of Technology are all about a different view of production and consumption. Every day, AUAS highlights researches, masterclasses and student projects that boost the transition to circular cities.