AUAS and VU to host international 3E Conference in 2024
'Entrepreneurship Education: a playground for impact'
12 May 2023 15:59 | Entrepreneurship

The main European event for entrepreneurship education - the 3E Conference - will take place in Amsterdam in May 2024. AUAS will take up the mantle to host the next edition as local organizer in partnership with the VU. This exciting announcement was made by Dr. Ingrid Wakkee (Professor of Entrepreneurship) and Dr. Juanfra Alvarado Valenzuela (researcher in Business Failure & Recovery) from the AUAS research group Entrepreneurship during the final day of this year's 3E Conference. The VU joins this endeavor under the supervision of Dr. Marco van Gelderen (psychologist specializing in enterprising behavior).

The 3E Conference was brought to life by the ECSB (European Council for Small Business and Entrepreneurship) in 2013 and has since continued to grow. It has become a unique and innovative event that brings together researchers, educators, and policymakers to discuss and exchange best practices, key challenges, and new developments in entrepreneurship education.
Innovative and Inclusive Conference
The theme for the 2024 conference is 'Entrepreneurship Education: a playground for impact'. The 3E conference differs from the usual format by adopting a non-traditional approach, encouraging roundtable discussions and excluding PowerPoint presentations.
The conference aims to promote inclusivity and foster collaboration and exchange among all stakeholders in entrepreneurship education, including educators, researchers, practitioners, trainers, policymakers, program managers, and representatives from special interest groups of local or international organizations. Participants will have the opportunity to learn from entrepreneurship education experts, share experiences, and network with peers.
Save the Date
Next year's conference will take place over three interactive days (Wednesday the 15th of May up until Friday the 17th of May) at and within walking distance of the HvA Amstel Campus in Amsterdam. The program will include various pre- and post-events, such as a welcome reception, a Professional Development Workshop (PDW), a Doctoral Day, the main conference, and a gala dinner with entertainment.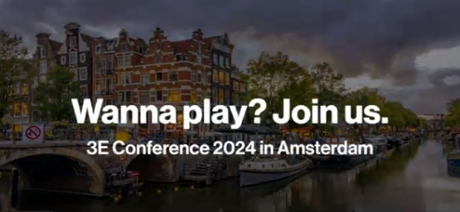 Present your paper
If you are interested in presenting your work at the 2024 3E Conference, please visit the website for more information on guidelines and deadlines.