Technical tips
Find out how to participate in an online information session and the technical aspects involved.
How do I take part in an online information session?
The first step is to sign up for a session via the website. Then you will receive a confirmation email with a link to the online session. This will grant you access to participate in the session – please note the date and time. 
MS Teams
Most of the sessions are in MS Teams. If you click on the session link the URL will indicate the system used for the session – see the information right after https://. For MS teams, for example, you'll see: teams.microsoft.com. 
If you want to access MS teams via your browser, we recommend using Google Chrome or Microsoft Edge. The other browsers may cause issues.
The online session works best if you install MS Teams on your device. You can download MS Teams from the Microsoft website(opens in new window).
Unibuddy
For the most optimal user experience, we recommend using a computer or laptop with Google Chrome. It is not necessary to install software in advance.
How to get access
When you click the link, a window as shown below will open.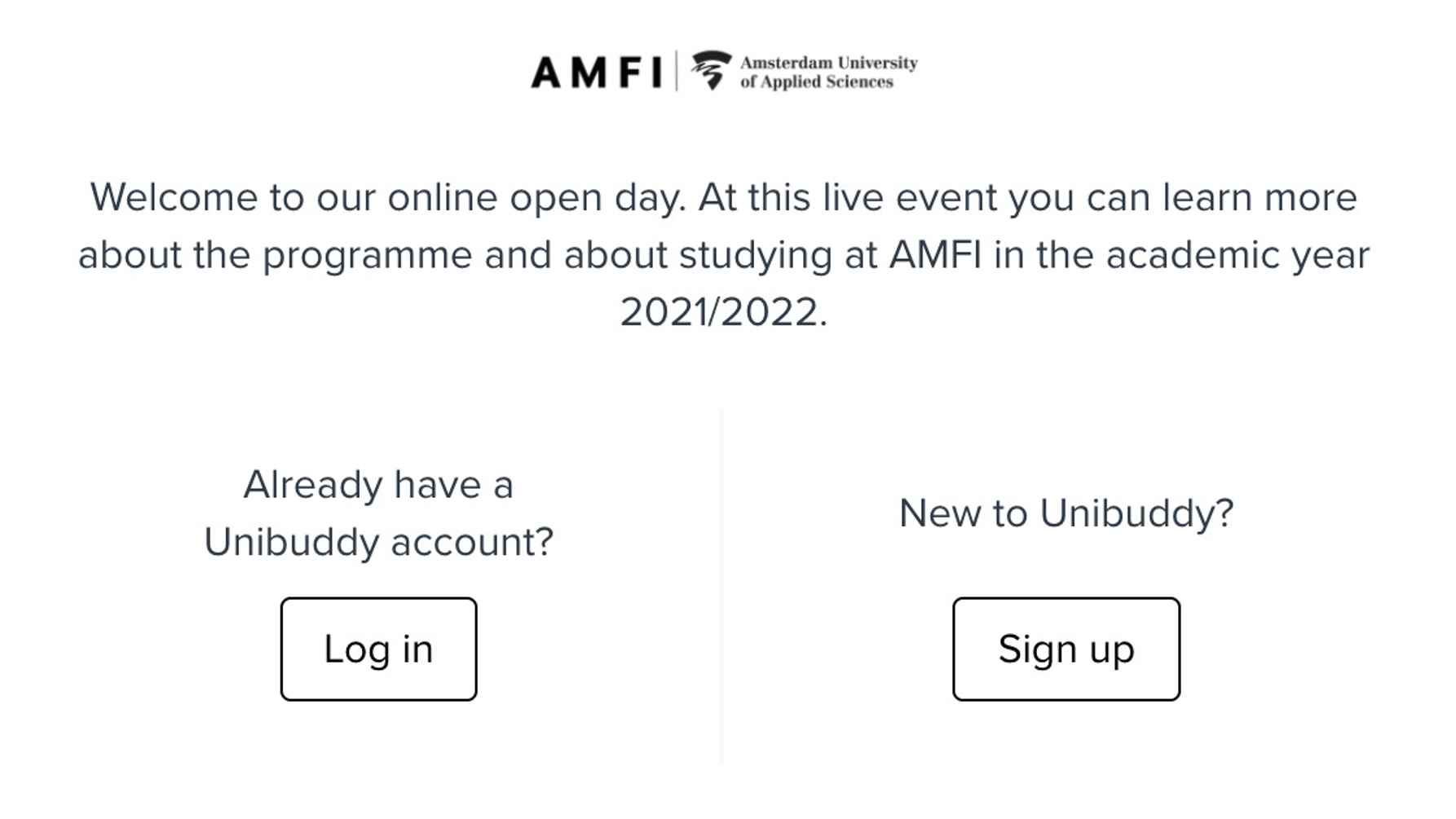 The only thing you will need to do is to click "Sign up" to create your Unibuddy account.
In the next window you will be asked to fill in your name, email, a password and your country of residence. For privacy reasons it is fine if you fill in your first name twice. Remember the email address and password you have registered with. You will need this to log in via "Join event" on the next screen. 
How to ask a question during a live session
Under "livestream" on the left top corner of your screen, you will be able to follow all live sessions. You cannot be seen or heard during the sessions. Because we do like to interact with you, there are chat functions with which you can ask questions during all presentations.
Questions for presenters can be asked in the chat of the live sessions.
Specific questions, for example about your application or questions for a student can be asked in dedicated chat channels such as #studentdesk-application or #ask-a-fashion-&-design-student. These channels can be found under "live feeds", also to be found on the left of your screen. 
Please be aware that: 
The presenters will tell you at the start of their presentation how they deal with questions (most will dedicate time to a Q&A at the end of their session).
Messages sent via the chat function are visible for the presenters and all viewers. 
How to switch to another Unibuddy channel
Once you have created a Unibuddy account, you can easily switch to another channel via the links on the open day webpage of your selected degree. 
AMFI – Amsterdam Fashion Institute (https://bit.ly/3pQOlVj) even offers three channels on the open day that run concurrent sessions: one in English, one in Dutch and one with informative videos.