10K Incubator Programma
Startup support for sustainable innovations, creative solutions and innovative ideas.
The 10K Incubator program, part of the Venture Centre of the Amsterdam University of Applied Sciences, supports startup ideas from all students of the AUAS, regardless of education. We work closely with internal and external partners from the Amsterdam ecosystem to enable innovative, sustainable and innovative entrepreneurship for our entrepreneurial students.
On this page: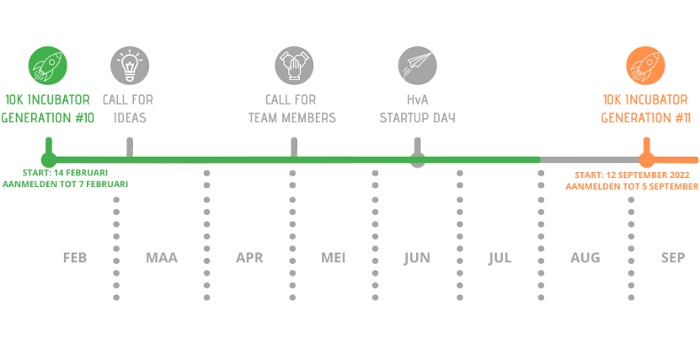 How does it work?
The 10K incubator is for all students who have an innovative idea and want to develop it further into a startup. Experience in entrepreneurship or not, it does not matter, this support is available for all students of the Amsterdam University of Applied Sciences, from Nursing to Business Administration and from Technology to Sport Management.
In 20 weeks you will investigate what it takes to make an impact with your innovative idea. You don't have to do this alone! In these twenty weeks you will receive guidance based on the 24 Steps of Disciplined Entrepreneurship and you will be assigned an experienced coach. You become part of an entrepreneurial community that meets every two weeks for plenary feedback sessions and masterclasses. These valuable masterclasses by external experts on topics such as Finance, Sales, Legal and Project Management provide you with skills and knowledge that will come in handy now and in the future. Finally, there are various moments in the program where you work on your pitch and put it into practice, e.g. at the end of the program during the Dragons' Den.
Important the program is free, it is an investment from the Amsterdam University of Applied Sciences in its students and we do not ask for a share in the company.
Who is 10K for?
10K is for all HvA students and max two-year-old alumni with an innovative idea to make the world (or a small part of it) a little more beautiful or to improve a process with which they are familiar. You do not need to have experience in entrepreneurship yet, or to know exactly which steps you are going to take, but we think it is important that you have the motivation and time to invest in this idea.
Curious about what your innovative idea, sustainable innovation or creative solution and team should meet? Take a quick look here!
The program
The 10K Incubator program lasts 20 weeks and kicks off every six months with an Intensive week, in which you get to know each other, the coaches and the program. Every two weeks on Wednesday we have a plenary feedback session with the other teams of your generation, a joint dinner and a master class with drinks at the end. Halfway through the program we have a feedback night, during which we pitch to our external partners. We close the program with a Dragons' Den, where you pitch to a board of experienced investors, entrepreneurs and people from the ecosystem.
Participation also offers you access to a flexible workplace and our Venture Center community, with former 10K'ers and other entrepreneurs. As a 10K startup you fall under high involvement from our employees, coaches and researchers of the Venture Center. In addition, you have access to community activities such as events and the yearbook and offers from our partners.
Program period: twice a year, from February to June/July and from September to January
Costs: The program is free, but we do expect a certain amount of effort and commitment, it is an investment of the Hogeschool van Amsterdam in its students.
Application period: Applications open twice a year and there is room for 8 to 15 startups in the program. You send the Application Deck to 10k@hva.nl
After the program: After the program you have made great strides in developing your idea into a startup and you have a plan for the next nine to eighteen months. You have further developed your knowledge within entrepreneurship and network and are ready to bring in your first customers, attract financing and convince people to share their network with you.
Why join?
During the 10K program we support startup in four areas by developing:
You map out even better what problem you are solving and who benefits from it.
You further develop your product or service into at least a prototype (a first example of your product/service).
You develop a business model for your startup.
You build your team, both who you need and the way you work together.
These four points ultimately result in; that after 10K you know exactly which steps you will take in the coming months and also know how to articulate this well in writing and orally.
The result is often that startups after 10K successful HBO Take-off applications, find business partners, win startup competitions, are admitted to renowned follow-up programs and of course continue to develop and market their products.
The 10K program not only contributes to developing your idea into a startup, but also to your personal development as a young professional. During 10K you will learn how to take your idea on the rise and what it involves, from leadership and network expansion to process planning. In these 20 weeks you will gain knowledge and skills that can come in handy now, but certainly also later. In addition, participating in 10K looks good on your CV.
Apply for 10K
To apply for a spot in the next generation of 10K, you must do the following:
Download the 10K Application Deck here.
Fill it out and send it to 10k@hva.nl.
In the application deck you will find instructions on how to request an intake interview
After the interview you will receive a message whether you are admitted to 10K
Please note that it may be part of the admission process that we set additional requirements for your application. For example, before starting the program, you still need to develop some parts of your startup to be eligible for admission up to 10K.
Want to know more?
Then quickly go to our 10K website and read all about the Incubator program there! If you still have questions, please email us at 10k@hva.nl, we like to think along!