Health Promotion – Personal Trainer
In this minor you will be trained to give expert advice as a fitness guide and as a personal trainer. The main purpose is to develop and adjust an appropriate training schedule on an individual basis to enhance one or more performance factors. The minor will lead up to a certifies personal trainer certificate of the National Strength and Conditioning Association of America (NSCA).
About the Minor
As a (future) health professional you might already be accustomed to advising about a healthy lifestyle, human movement, or nutrition. This minor will give you more insight into how to optimally tune exercise advice to your client's capabilities and how you can assist as a personal trainer and fitness guide.
This minor is broad. You will learn all the skills you need as a personal trainer; from the musculoskeletal system to motivational strategies and from training skills to medical issues such as obesity and diabetes in conjunction with training. From testing and assessing to discovering psychological influences, biomechanics, anatomy, kinesiology, nutrition, balance, speed, designing programs, resistance training techniques and plyometrics. The end goal is to become a better Personal Trainer.
Learning outcomes
The main learning outcomes of this minor are:
To develop or adjust an appropriate training schedule on an individual basis to enhance one or more performance factors like maximal strength, muscle endurance, or muscle hypertrophy.
To take into account illness/complaints from clients with specific needs (e.g. obesity, diabetes, high blood pressure, joint problems).
To guide clients in a motivational and professional manner.
To set up and lead small group training (4-10) for certain performance-determining factors like strength and endurance (aimed at children, adolescents and/or the elderly).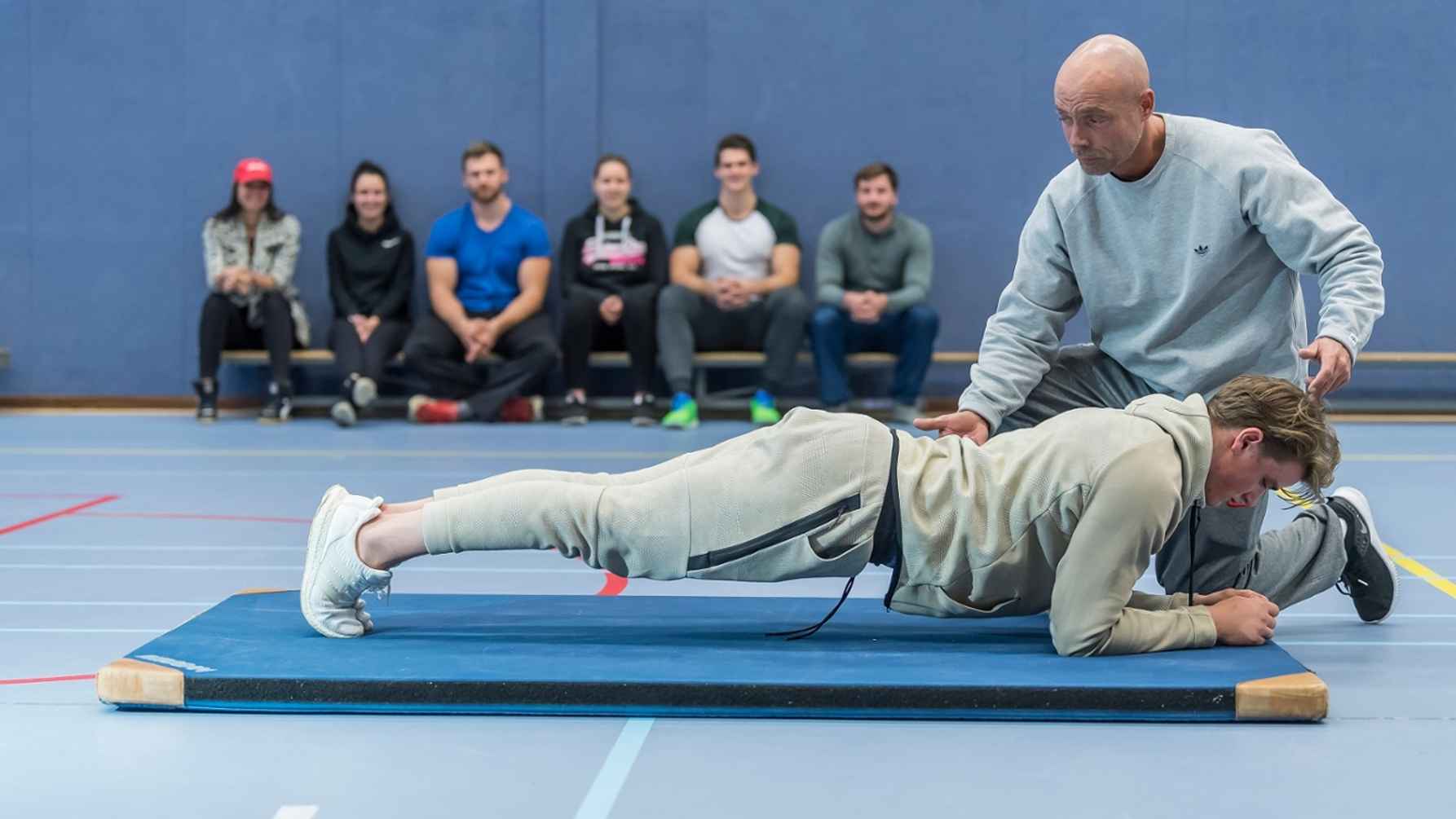 Programme outline
This minor is taught in English and consists of 30 ECTS. In the first 7 weeks, you will get theory and practical skills lessons about training, after which you will apply this knowledge during a 15 weeks internship (approx. 3 days per week). The theory is based upon the book NSCA's Essentials of Personal Training.
Methods of assessments
Midterm exam: 5 ECTS
Internship: 15 ECTS
Final NSCA-CPT exam: 10 ECTS
The theory incorporated during classes prepares you for the NSCA-CPT exam. The midterm exam is conducted at the end of the first part of this minor. The test consists of ± 30 multiple-choice questions (computer-based) and ± 20 open questions about the topics covered during the lectures.
Main topics
Becoming a successful Personal Trainer
Designing exercise programmes
Initial consultation and assessments
Exercise sciences, part 1
Exercise techniques, part 1
Internship
A huge and probably the most important part of this minor is your internship period. Practical implementations are always the best learning experiences for students.

In 2 ways you will put the theory into practice.
Before day 1 of the minor, you must arrange 2 clients you can train for 15 weeks. These clients can't come from the same household. It can be a friend of your mom's, a neighbour or your uncle, but not direct families like a brother, sister, or father. Your boy- or girlfriend is also no option.
You must intern at a company for at least 300 hours. Usually, this comes down to a 15 weeks internship period of 2,5 to 3 days per week, 8 hours a day where time working on your portfolio is included. Within those hours you are expected to train at least 5 clients that have been assigned to you or that you can choose/bring to the club.
Requirements internship company
Finding your own internship company can be challenging. The health- or fitness club must have room, space and time to take you on as an intern. And you must be allowed to train 5 designated clients in a personal trainer setting at your internship company.

Also, your guide must:
be educated at a higher level of education, have a master's degree or a middle education plus.
have experience working independently within the industry for at least 3 years.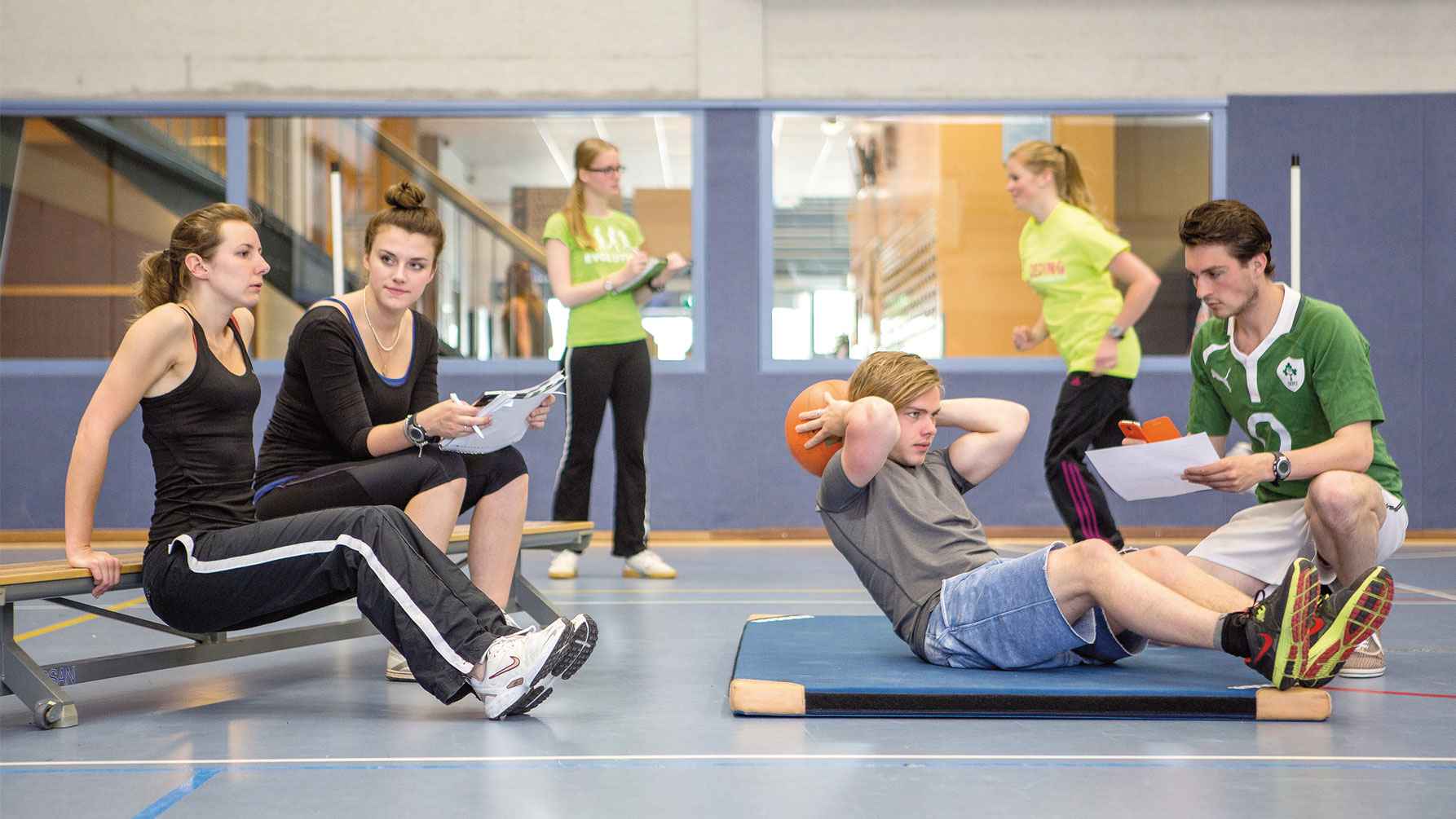 Costs
Book: ACSM's Resources for the Personal Trainer, ISBN 978-1975153205: ± €75
Medic First Aid (MFA) course: ± € 65
NSCA student membership (± € 65) and exam (± € 300)
As a student, you have to become a member of the NSCA to get access to their database and sit for the NSCA-CPT exam.
Study periods
The minor runs twice a year:
Fall semester (September – January)
Spring semester (February - June)
Admission requirements
You must be a 3d-year student.
You are expected to live a healthy lifestyle, be familiar with exercise or training and be comfortable in sports scenes in general and in particular the fitness scene.
You have an affinity towards coaching clientele.
Because this minor is taught in English, you must have strong written and verbal English skills (equivalent to IELTS 6.0 or TOEFL IB 80 and European level B2). You are unlikely to pass the exams or obtain the necessary credits if you do not meet this level.
The AUAS uses SiS. SiS- requirements are: you have scored 100 points at the start of the minor, including your propedeuse (completion of the first year).
Be aware: ESP students or students from other high-speed programmes, need to have the entire 120 points (no 2nd-year exams left) when they want to combine this minor with their thesis.
Application
Application deadline fall semester
The International Office has to send us your official nomination by 1 April.
The application deadline for the programme is 15 April.
Application deadline spring semester
The International Office has to send us your official nomination by 1 October.
The application deadline for the programme is 15 October.
Read the frequently asked questions