Crafting resilience
Project

Social resilience is often presented as a panacea for issues from inequality to polarization. But what is social resilience and how do you build a resilient society? The NWA-funded project 'Social Work and the Art of Crafting Resilient Societies [Crafting Resilience]' takes a long-term, collaborative approach to these questions. Over five years, the research project will examine social interventions that seek to craft social resilience in eight Dutch cities.
Crafting Resilience
Policy-makers increasingly look to collaborations between state, community organizations and citizens to overcome social disparities and create social resilience, especially in marginalized communities. The urgency of current societal challenges makes such governmental innovations of the utmost importance. However, building social resilience through new collaborative state-citizen arrangements remains a promise rather than a tried and tested path. A major challenge is bridging the gap between state and marginalized citizens, especially in light of growing social-economic inequalities, polarization and institutional racism. Social professionals have an important role to play in this respect, but they often lack the conditions and training to do so.
'Crafting Resilience' examines the dilemmas and challenges of such attempts to craft new, resilient state-citizen arrangements. It examines selected programs and approaches that seek to bolster social resilience by crafting new relations between the state and citizens. How do social professionals work with policymakers and citizens to envision new state-citizen relations? How do they deal with the conflicts, dilemmas and power relations this involves?
Social resilience is often presented as a panacea for issues from inequality to polarization. But what is social resilience and how do you build a resilient society?
Three Research Lines
Three lines of research identify distinct but related aspects of the Crafting Resilience project. The first line focuses on the community and governing relations produced in social resilience projects, and is led by Anouk de Koning.
The second line, led by Femke Kaulingfreks, takes a closer look at navigating the professional politics of social work. Jeroen Gradener from the AUAS research group Youth Spot is involved in this research line.
The last research line, led by Maartje van der Woude, investigates dilemmas and frictions inherent in social resilience approaches to security-related issues. Stijn Sieckelinck, Professor Youth Work, is involved in this research line. In each research line, two PhD students research cases, and one postdoc researcher sketches the larger background of these welfare approaches and draws overarching conclusions.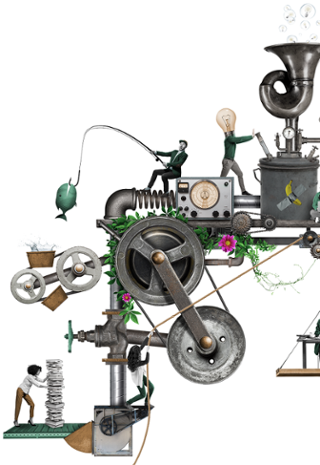 Collaboration as Key
Principal Investigators Anouk de Koning (CADS, Leiden University), Femke Kaulingfreks (Youth & Society, InHolland), and Maartje van der Woude (VVI, Leiden University) are leading the project in close collaboration with a consortium of junior and senior researches, and representatives from local and national government, social work organizations, and knowledge institutions.
One defining feature of the 'Crafting Resilience' project is the equal collaboration between academic partners and researchers at universities of applied sciences. The project was conceptualized to include practioners from the start, rather than the more common practice of sharing results with them at the end during the knowledge utilization phase. Building a committed, multidisciplinary consortium was key to this approach. The consortium includes 13 researchers, 16 co-funding partners, and 11 co-applicants. They represent key actors from across the Dutch welfare landscape, as well as an international panel of experts.
Contact our researchers