Health care students join forces to improve elderly care
Students of the Nursing, Occupational Therapy, Physical Therapy and Nutrition programmes and vocational nursing students are completing a joint work placement in Amsterdam Zuidoost.
31 May 2020 09:47 | Urban Vitality

From 5 February, Amsterdam University of Applied Sciences (AUAS) will test a new approach to improve care for vulnerable elderly people in Amsterdam Zuidoost. Paramedical and nursing work placement students from both the vocational and higher education levels will work in teams with each other and community care providers to optimise the care these patients receive.
IMPROVING COMMUNICATION
'With this initiative, we aim to tackle an important issue in the health care sector,' says Sanne Nissink, project leader and lecturer-researcher for the AUAS Nursing programme. 'The transition from hospital to community care organisations and the communication between health care providers are areas where things tend to go wrong. For instance, it will often occur that a community nurse does not know which care a physical therapist has provided her patient in hospital. Vulnerable elderly patients in particular are at risk of falling through the cracks in the system. This issue needs resolving, and we can start tackling it in our degree programmes.'
COMPLETING A WORK PLACEMENT TOGETHER
From February, students of the AUAS Nursing, Physical Therapy and Occupational Therapy programmes will receive their practical training together at the WijkKliniek in Amsterdam Zuidoost, together with vocational nursing students from ROC Amsterdam. Together, they will provide patient care in both the clinic and the community during their work placements. Students of the Nutrition and Dietetics programme will join the project as of the coming academic year.
APPRECIATING DIFFERENCES
This new approach to the work placement differs from an ordinary placement. Usually, health care students complete their work placements in a single department. In this case, however, they experience all aspects and phases of the health care process both inside the clinic and outside of it in the home situation. They confer with each other on the best approach and in doing so learn how to highlight different aspects of the same case.
Nissink: 'This allows students to experience each other's specialisations and learn to appreciate their differences and use them to their advantage. And because this means that nursing and paramedic students will be getting to know each other quite well here, we expect they will also be more likely to consult each other in the future and come to a solution together.'
Teams of health care students will work on patient recovery, but also on a proper transition back to the patient's home in close cooperation with community teams from Amsterdam Zuidoost. They will be supported by nurses and other health care professionals, including a geriatrician.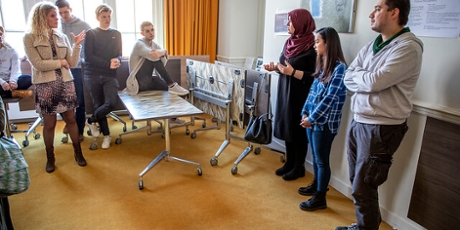 NO SAFETY NET
This project will also help teach the health care students about the social issues that the elderly in Amsterdam Zuidoost have to face. They often lack the ability to fall back on family or neighbours, for instance because people in their social circle are unable to help them due to financial issues,
according to Herma Herpers, chair of the Ouderenadviesraad Zuidoost (advisory council for the elderly). 'Not all elderly people dare inform their caregivers about this, partly out of a sense of shame,' says Herpers. The Ouderenadviesraad Zuidoost is a partner on this project.
About the WijkKliniek
The WijkKliniek (community clinic) at the Eben Haezer Cordaan location was opened in June 2018, based on the idea that acute hospital care for the elderly should be provided close to home and that the focus should be on their eventual return home. In other words, the immediate illness should be treated, while also working on functional recovery.
The WijkKliniek is an initiative launched by Cordaan, Amsterdam UMC (AMC location) and the Zilveren Kruis insurance company. Bianca Buurman, professor of Integrated Elderly Care at AUAS and professor at Amsterdam UMC helped establish this innovation.
More information
Practical training at the WijkKliniek falls under the 'Wijk-Up Call' project, for which Corine Latour, professor of Integrated Psychiatric and Somatic Care, received a grant from the Netherlands Organisation for Health Research and Development (ZonMW). This project is a partnership between the AUAS (as coordinator), Cordaan, ROC Amsterdam and the Ouderenadviesraad Zuidoost.
The work placement programme for nursing students from both the vocational and higher education levels started in September, and their experience in learning to work together in the WijkKliniek and the community seems to have been positive so far.
From February, students of the AUAS Occupational Therapy and Physical Therapy programmes will also be joining the work placement. Finally, students of the AUAS Nutrition and Dietetics programme will be joining as of the coming academic year.

The AUAS BOOT stores also contribute to the project and preliminary conversations are under way with the Social Legal Services and Social Work programmes.