Kick-off Master Fashion Enterprise Creation
15 Sep 2016 16:19 | Faculty of Digital Media and Creative Industries

From Brazil to Korea and from India to Italy: the first students of the new Master Fashion Enterprise Creation, come from all over the world. Geleyn Meijer (dean FDMCI) welcomed the aspiring entrepreneurs to the University of Applied Sciences last Monday, September the 5th: "It's a fantastic step you made, and we are proud to have you here".

Last Friday the students already met each other, the staff, AMFI and the AUAS. In the next two years they will work on their business plan and its implementation the two coming years. Their workplace is "StudioHvA", a creative hub that offers plenty of room for knowledge sharing and interaction. Interesting detail: the Fashion Enterprise Creation students are the first fulltime master students of the HvA.

The business plans range from nano-technology integrated into fabrics and materials, to the use of artists and performers in the development of collections. During the Master there will be collaborations with real companies and sponsors. The ultimate goal is to establish innovative and profitable businesses.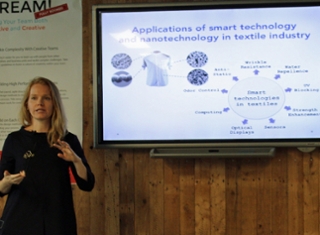 The students already have clear visions regarding their business plan: An Italian student sees opportunities in innovative fashion, accessible and fitted for every occasion: "I want to make something different but something wearable".
Apart from their nationality their backgrounds are quite diverse as well: only a few have completed a Bachelor's degree in the fashion industry. Studies vary from business, communication, marketing and physics to chemistry. With this mix of backgrounds and nationalities there is no doubt that unique projects will originate.