Story
Tess did her internships at Ripstar, Roxy and O'Neill
Graduate Sport Studies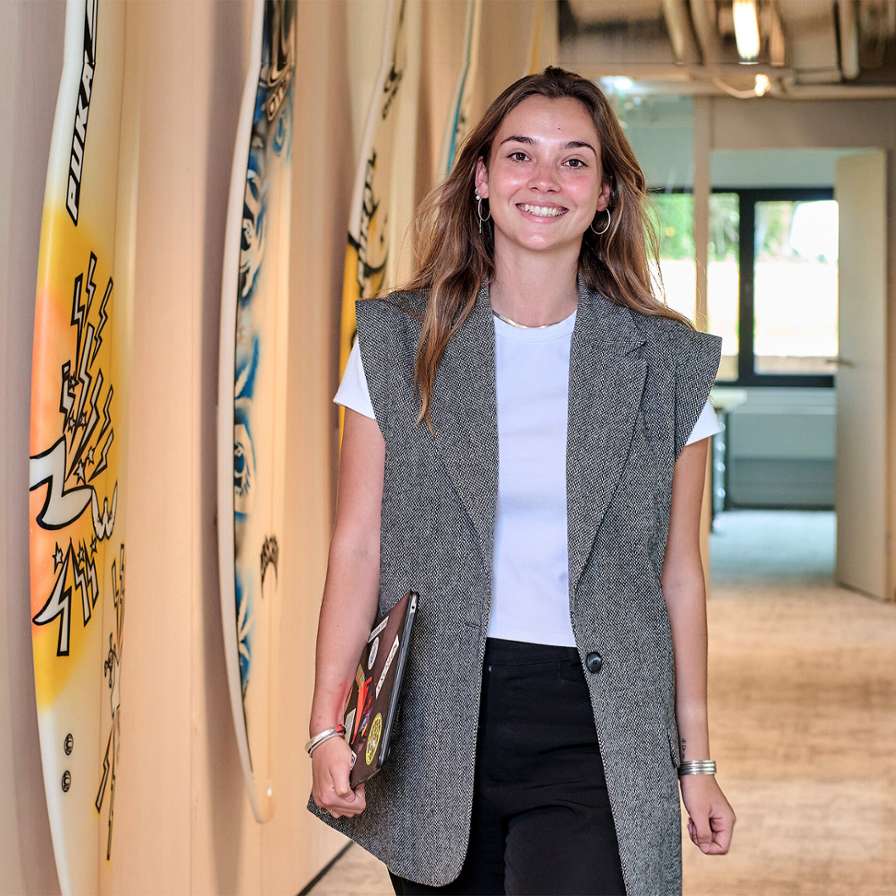 'What appeals to me most about this programme is that it includes 3 internships, a minor and a huge network of inspiring people.'
Tess was born and raised on the small island of Palma de Mallorca in Spain, as a child of a Spanish father and a Dutch mother. At an international school she learned to work and study in a multicultural environment from a very early age. 
When did your love for sports start?
'Being a restless and enthusiastic child, I quickly figured out that water sports were my absolute favourite activity. When I was 7 years old my mom signed me up for sailing camps. At the age of 16 I was sailing as a top youth athlete and travelling around the world. It was during that period that I learned to work in a team, to be disciplined, to have perseverance and to be creative with my time about study, sports, and leisure. Being surrounded by water, I always made time to surf when there were waves and to wakeboard when there were none. Snowboarding is also one of my great passions.'
Why did you choose Sport Studies?
'At the age of 18 I had to decide about my future study career. I promised myself I would not spend 4 years putting my passions on hold to pursue my studies. Being an island kid, I needed an active study programme that provided me with the opportunity to 'learn by doing'. After some research and talking to people I knew in the Netherlands, I came across Sport Studies – track ISMB. What appeals to me most about this programme is that it includes a total of 3 internships, one minor and a huge network of inspiring people.  This allows you to carve your own path toward your dreams and prepares you to become a professional sport leader.'
Where did you do your second-year internship?
'I did my internship at Ripstar, an action sports travel organisation in Amsterdam. They organise high-end snow, surf and wake camps, instructor courses, exclusive custom trips, and group trips. Their goal is to inspire their guests and to let everyone discover their own potential. They achieve this by creating unique journeys, in which they are happy to share their knowledge, expertise and passion about the sport. 
I chose Ripstar because it offered me a great opportunity to discover whether the board sport industry would be a good fit for me. I wanted to see how I would react to the business aspect of it, as there is quite a difference between liking a sport and managing it. Since Ripstar is a small company, it allowed me to work in a wide variety of marketing functions, including social media management, ECOM management and SEO management. As this was my first internship experience, I was very pleased with my tasks and responsibilities, as well as with the working environment. This internship provided me with an in-depth understanding of marketing, communications, and hospitality. As a result of my internship, I was asked to help during the summer, as the assistant team manager and Spanish speaker at a surf camp in Northern Spain. A great experience.'
Where did you do your strategic internship in year 4?
'As a water enthusiast, Roxy has been a long-standing inspiration for me. I have always enjoyed wearing their clothing and sportswear. Without hesitation, I decided to move to California - Huntington Beach, to embark on a new adventure as a Merchandise and Development intern with Roxy. I am aware of the enormous opportunity I have had. Not only because I got a position in the company that I admired so much since I was little girl, but also because it provided me with the opportunity to live on the other side of the world and get to know the American culture.
'Roxy's company motto, 'Make waves move mountains', perfectly embodies their philosophy. The company focuses on empowering and motivating women through a range of sporty and feminine products in adrenaline sports. They aim to build a strong community of like-minded women who share the same interests and values. This quote is not only significant to Roxy but also resonates deeply with my personal life, highlighting the challenges and obstacles that can be overcome through board sports and female solidarity. In addition to helping my colleagues in merchandising and development, they gave me the chance to help the marketing department as well, to have a good perception of how a company like Roxy works. It has been an incredible adventure! I worked closely with new clothing lines, create trend-watching presentations, coordinate photo shoots, model for a Roxy footwear campaign, and connect with athletes, among many other exciting experiences.'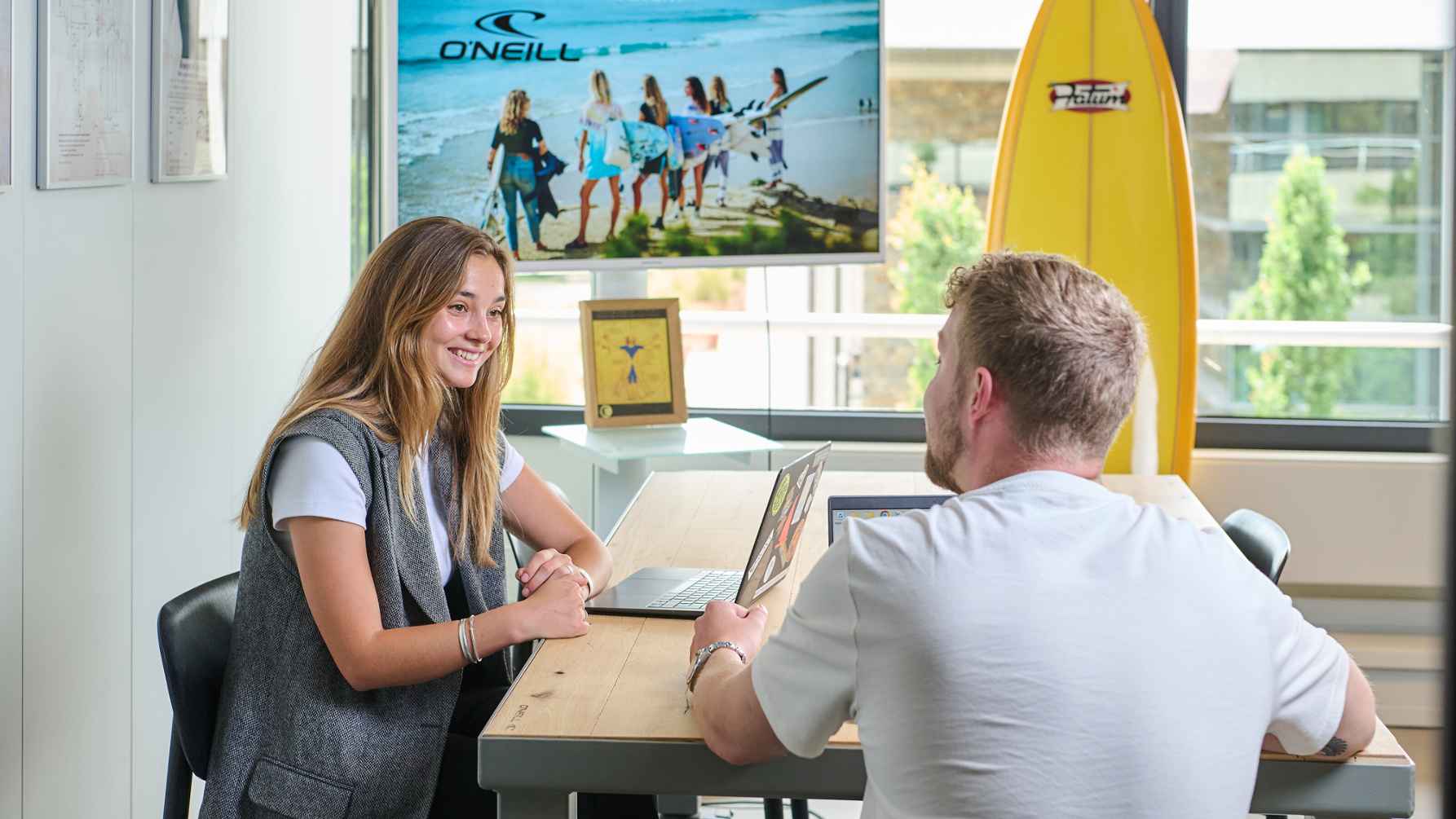 Can you tell us about your graduation internship at O'Neill?
'There is no doubt that I am a board sports enthusiast and that I always look for brands that are as enthusiastic as I am. O'Neill was the ideal place to be. The company's core values revolve around producing functional and innovative board-riding products. As a Product Marketer intern for O'Neill, I focused to understanding customers' needs and wants. Product Marketers drive demand and usage of the product, focusing on processes such as product positioning, sales enablement, development messaging, buyer personas, metrics, meeting customer needs, and product demos. All the different Sport Studies competencies can be applied to this role. My responsibilities included conducting market research, analysing consumer trends, assisting in the creation of marketing campaigns and materials, managing social media accounts, monitoring brand performance, and collaborating with cross-functional teams to ensure consistent brand messaging.'
What was the focus of your graduation research project at O'Neill?
'Organisations have increased their annual budgets for digital marketing, and this is set to continue to increase drastically over the next 5 years. Consequently, there has been seen a great number of demands for those who can "woo" the digital crowd and maximise the return of the online marketing spend. The 2 main options O'Neill has is to hire an in-house digital marketer or work with a specialist digital marketing agency. For my research project I focused on determining the most appropriate choice for their upcoming campaigns. This effort will assist O'Neill in achieving both its immediate and long-term objectives.'
Any idea what you would like to do after graduation?
'During my studies I decided to step out of the sports world for a while, to discover my creative side. During the Visual Storytelling minor I developed the skills to communicate stories using visual and digital media such as video, graphic design, and photography. I loved this minor so much that I have decided to try to combine being creative with the sports industry. This is an exciting time for me, and I cannot wait to see what lies ahead as a graduate in Sport Studies.'
Any tips for upcoming first-year students of Sport Studies?
'Starting your first year in Sport Studies can be an exciting journey filled with numerous opportunities for growth and exploration. Staying organised is crucial. By creating a well-planned schedule and utilising a planner, you can efficiently manage your classes, assignments, and extracurricular activities. Additionally, establishing positive relationships with lecturers and guest lecturers is invaluable. Actively participating in class discussions and seeking clarification through questions will not only deepen your understanding but also showcase your dedication to learning.
Collaboration with peers in study groups can lead to new insights and improve your academic performance. Remember to find a balance between theoretical knowledge and practical application in sports settings. Engaging in internships, volunteering, and attending sports events will help you gain hands-on experience and enrich your understanding of the field. Don't forget to embrace campus life fully by networking, joining clubs, and attending diverse events. Above all, take care of yourself by prioritising your physical and mental well-being. By following these tips, your first year will be a  rewarding journey of personal and academic growth. Good luck!'
Find out more about Tess on her own website
(opens in new window)