Why International Business?
.
The International Business programme at the Amsterdam School of International Business (AMSIB) is an exciting place to study. Our programme trains the next generation of international business leaders. Will you be one of them?
Your future
By the time you complete your studies, you will be prepared to pursue a Master's degree or enter the labour market. 80% of our graduates find a job within 6 months of graduation. With around 1,5 years of accumulated international experience, you will also be able to apply the hands-on skills that you have learned in a multicultural working environment.
Opportunity to Specialise
You can customise your programme by choosing electives, specialisations or up to two additional languages. The combination of lectures, real-business world projects, internship and global exchange, will prepare you to start your own business, launch a career at a multinational corporation, and thrive in the world of international business.
Personal Attention
You will attend classes with your own cohort of 30 students and benefit from a lot of class time contact with your faculty, learn from your mentor and receive guidance from your study advisor.
Accreditation
The university is committed to excellence in all aspects of its programme offerings. By submitting its programmes to accrediting bodies for review and accreditation, we ensure that our programmes are of high quality and international standard.

Our BBA-diploma is internationally recognised. The programme International Business is accredited by EFMD Programme Accreditation System (EPAS) as well as the Dutch Flemish Accreditation Organisation (NVAO). We are proud to have received a 'Distinctive Certificate for Internationalisation' from the NVAO in 2010. We are also accredited by NIBS, the Network of International Business Schools.
Diversity
We're working toward a school that includes everyone. AMSIB's student and faculty come from over 80 countries and across 90 nationalities. Diversity at AMSIB can be felt through our curriculum, faculty body, classes and student organisations. The AMSIB community embraces people ranging from different socioeconomic backgrounds, religion, sexual orientation and cultural heritage. Student clubs bring together our diverse student body on different topics and activities. 
What student associations can I join?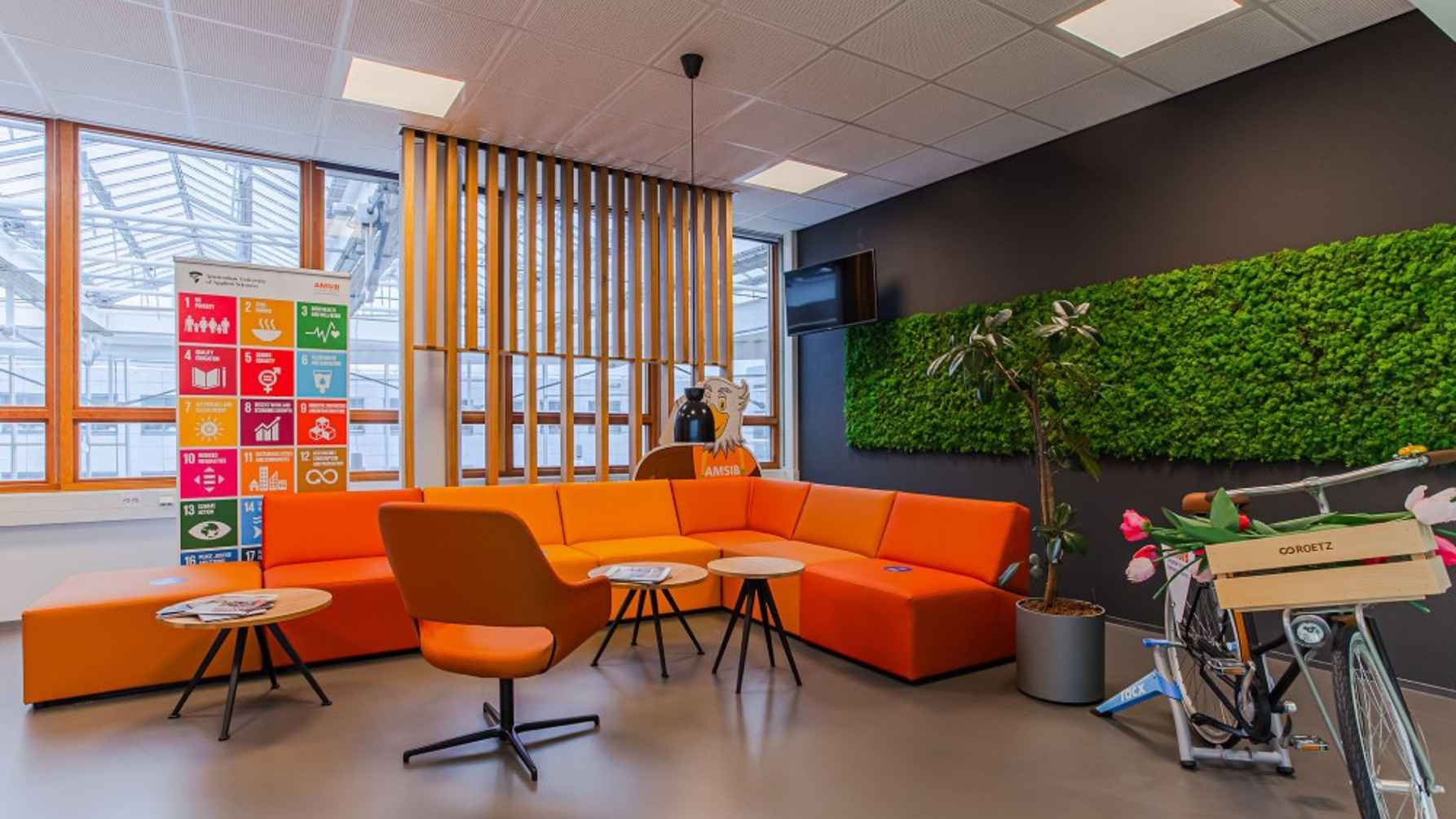 The IB programme is located in the southeastern part of Amsterdam, in one of the central business districts. Amsterdam is a prime business hub in Europe and ranked among the best cities in the world to live in by popular vote. Here you will find modern teaching facilities and a great atmosphere where members of staff, local and international students learn, lead and connect together.
Triangle of Support
As soon as you start your studies in Amsterdam, you will be assigned a mentor from the school. The mentor is here to help you with study planning and discussing personal issues. Besides the mentor we have study advisors and a student counselor available for you.
Your classmates
Your classmates come from countries all over the world, we are proud to have more than 80 nationalities in our classrooms. And generally, it is quite natural to build lifelong friendships and contacts, while becoming a 'global citizen' yourself.
AMSIB Community
The Amsterdam School of International Business (AMSIB) organises both social and educational events for students. For more information, take a look at our student life page.
Your International classroom
All lecturers and supporting staff are here for you to make the most of your time at the AMSIB. Our lecturers challenge you to adopt a global mindset from the day you arrive until the day you leave our international classroom. We cover every field in the world of business and management. You will be taught by marketeers, human resource managers, financial specialists and more. Besides teaching, many of them are still active in the corporate world and have a wealth of experience and insights to share with you.