International Business part-time
AMSIB - International Business
International Business. Bachelor's, part-time
Are you ready to take the next step in your career, but can't pursue it full-time? Study International Business in the evening and earn your bachelor's degree in Business Administration.
You might already have started your career and perhaps you are wondering, 'do I need more in-depth and recent knowledge to reach a higher position?' The part-time programme International Business is one of the finest programmes to learn about leadership and business.
The Amsterdam School of International Business (AMSIB) offers you the opportunity to complete a bachelor's degree in business administration in the evening.
Get an educational experience with a global mindset and learn from a truly international faculty. Join our EPAS-accredited international programme.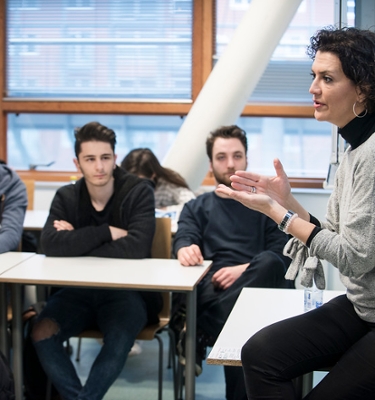 What does the programme entail?
The part-time programme International Business (IB) is a four-year Bachelor's degree programme. Classes take place in the evening. The programme provides you with in-depth awareness on how to manage or set up an international company in today's marketplace. During your studies, you will follow practical modules, take part in group assignments and make the connection between the programme and your professional career.
Go to the study programme
What are your career options after graduation?
Graduates from the part-time programme International Business have a solid understanding of the latest knowledge on international economics, finance and marketing and sales. They are capable of applying the acquired theory in their professional careers. Would you like to comfortably navigate the world of international business in an ethical and sustainable way? Join our EPAS-accredited international programmes and gain the international business proficiency that you are looking for.
Explore your career opportunities
What are the admission requirements?
There are different admission requirements for Dutch and international diplomas. Students are expected to have good written and verbal skills in English.
Go to the admission requirements
When and how can you apply?
Enrol no later than 1 May via hva.studielink.nl using your DigiD. Allow at least five working days to receive your DigiD. After enrolling you must complete the mandatory study check. The faculty will send you an invitation for the check, and issue you with a recommendation regarding your choice of degree programme.
Go to the enrolment procedure
Published by
Amsterdam School of International Business