Master Global Sustainable Business Management
Master Global Sustainable Business Management
Global Sustainable Business Management. Master's, full-time
The 1.5-year Master's programme Global Sustainable Business Management is run by Northumbria University and the Amsterdam University of Applied Sciences (AUAS) in partnership and is based at the AUAS Business Campus. This programme will give you the knowledge and help you develop the competence to support future sustainable business practice on a global scale.
Suitable for students from any undergraduate background, this programme has been designed in line with the 17 sustainable development goals (SDGs) set out by the United Nations. By studying this Global Sustainable Business Management Master's programme, you will develop specialist knowledge in contemporary business management models and learn how to evaluate how businesses operate globally in an increasingly competitive environment.
You will assess different business environments and develop a critical appreciation of management theory and business practice, aiming to achieve sustainability, act ethically and encourage responsible decision-making. You will also identify ways to identify, develop and manage competitive advantage within the global value chain.
The course is covered by the prestigious AACSB accreditation for Northumbria's Newcastle Business School and led by expert academics from both AUAS and Northumbria University.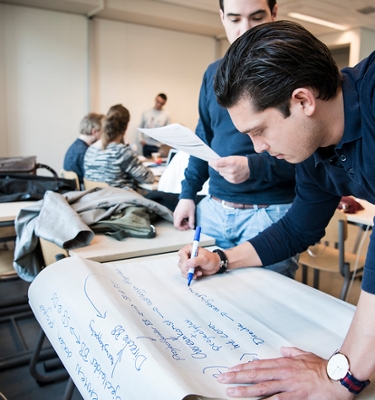 What does the programme entail?
The Master's programme Global Sustainable Business Management is a full-time, 1.5-year in duration degree programme, comprising 90 EC credits. Modules include Sustainable Strategy, Responsible Leadership, Business and Sustainability Analytics, Ethics in Business, Circular Economy and Organising for Sustainability Transition.
Read more about the programme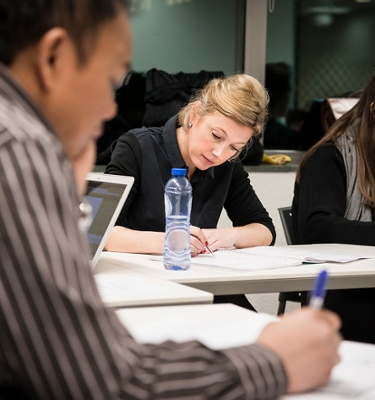 What will you gain from this Master's?
After graduating from the Master's programme Global Sustainable Business Management you'll be awarded the title Master of Science (MSc). This programme lends itself to those interested in careers with an international management angle and this broad subject base will position you to compete for graduate trainee roles across a range of organisations.
Read more about career opportunities
What are the admission requirements?
To be eligible for the Master's programme Global Sustainable Business Management, prospective students should hold a Dutch undergraduate (WO or HBO Bachelor) degree or a relevant 2:2 honours UK degree, or an equivalent degree. The Master's programme is offered in English, requiring an English-proficiency at an appropriate level.
Read more about admission requirements
Apply for entry
Applications for the Master's programme Global Sustainable Business Management for the 2021-2022 academic year can be submitted in Studielink as of April 2021 (approximate date).
Read more about enrolment
Published by
Faculty of Business and Economics